Pavement can consist of everything from natural stone to concrete to asphalt. Of these pavement types, asphalt concrete, is the one that takes the most expertise to do right. That said, an asphalt driveway or parking lot will last for decades with proper installation and maintenance.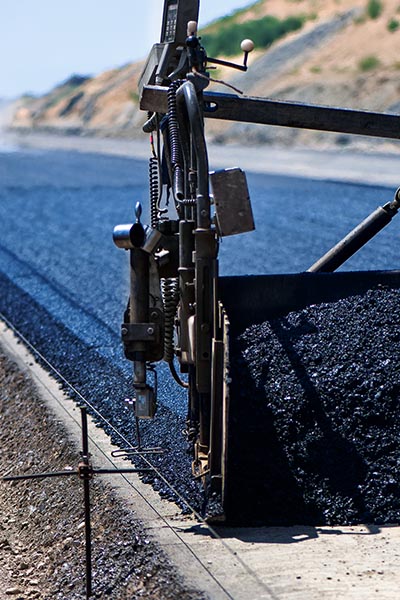 What is Asphalt Paving?
Everybody's seen a smooth black road, and that's asphalt concrete, which is more commonly referred to as just asphalt or blacktop. But what is it made of? It is composed of sand or gravel suspended in a petroleum product known as bitumen. This mix can be modified to suit the conditions. When hot, the bitumen starts off being a liquid. However, once it cools and cures, it becomes a solid surface that is very flexible, durable, and strong.
Paving Services
There are a lot of different asphalt services that professional paving contractors can do for your property, whether you need a driveway, a private roadway, or a parking lot.
Installation
A new installation starts with preparing the site and grading the underlayer to ensure that water drains away. Gravel underlayers can be anywhere from 2 to 4 inches deep. The asphalt layer is poured hot and allowed to cure. Concrete walkways or curbs can be added at this point.
Asphalt Overlay
With an overlay, a section of the pavement is covered with a new layer of asphalt on top of the existing surface layer that flows over any previous damage, cracking, or imperfections. However, if the existing asphalt and sub-grade slab are in a moderately unstable and deteriorated condition, then we can first remove a portion of the top layer with a process called asphalt milling, which would then followed by an overlay. Either way, the end result provides a smooth, unbroken paving surface that can then get painted or sealcoated.
Replacement
When existing blacktop becomes too damaged or deteriorated for even asphalt milling, professionals recommend a full replacement. This process involves completely pulling up the old paving and replacing the entire previous layer.
Work with an Asphalt Contractor that you can trust!
If you're considering asphalt paving in the greater Cincinnati area, Howe Asphalt will be there for you. We've been serving western Ohio for decades, and we've worked hard to become the most trusted paving company for both commercial businesses and residential homeowners. For the best paving contractor in the area, contact us today.